INTERNET SOLUTIONS
Accessibility and ADA Compliance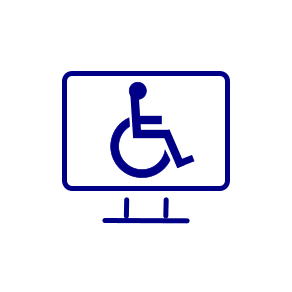 Web Accessibility means that websites, tools, and technologies are designed and developed so that people with disabilities can use them.
The World Wide Web Consortium (W3C) is an international community that develops open standards to ensure the long-term growth of the Web.
Through the W3C's Web Accessibility Initiative (WAI), the Web Content Accessibility Guidelines (WCAG) 2.1 document was created to provide a wide range of recommendations for making web content more accessible.
Following these guidelines will make content more accessible to a wider range of people with disabilities, including accommodations for blindness and low vision, deafness and hearing loss, limited movement, speech disabilities, photosensitivity, and combinations of these, and some accommodation for learning disabilities and cognitive limitations.
The guidelines are organized around the following four principles, which lay the foundation necessary for anyone to access and use web content. Accessibility requires web content that is Perceivable, Operable, Understandable, and Robust. These requirements include (but are not limited to):
✓ Text Alternatives for All Non-Text Content
✓ Alternatives for Time-Based Media
✓ Background and Foreground Color Contrast
✓ All Functions Operable by Keyboard
✓ Provide Enough Time to Read Content
✓ No Content Known to Case Seizures
✓ Use Simpler Ways to Provide Content
✓ Consistent Navigation on All Web Pages
✓ Web Pages Operate in Predictable Ways
✓ Text Content is Readable and Understandable
✓ Compatibility With Assistive Technologies
✓ Extensive Conformance Testing